For Carriers – Coming Soon!
Supporting drivers on the road is a top priority for carriers. TruckerBux can help with that. With our mobile app, drivers experiencing a breakdown have the power to find and hire nearby roadside repair service providers. Carriers can feel confident with our app's secure payment and detailed records features. If your fleet managers handle breakdowns for your drivers, you have the ability to control permissions, and fleet managers are able to use the app and WebPortal in the same way as if they were in the truck with the driver.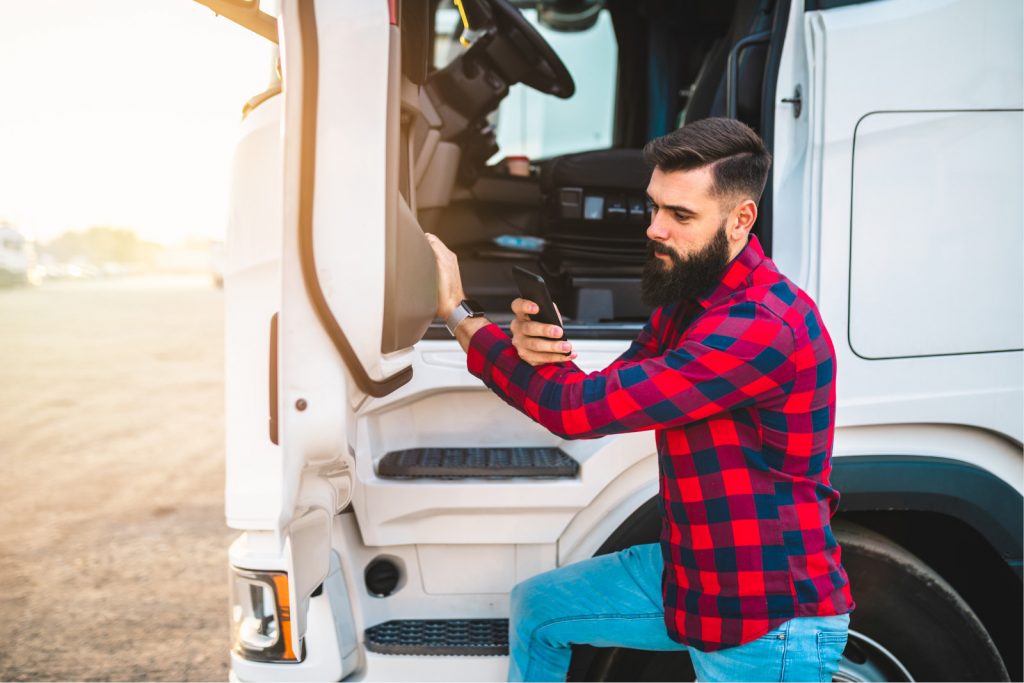 Why TruckerBux
The usual process for getting a broken-down truck on the roadside repaired is complicated, time-consuming, and stressful. As a truck carrier, the last thing you want is a driver stranded on the road. TruckerBux was created to streamline this process. Our mobile app allows your driver or fleet manager to handle the entire repair process from start to finish without the need for a middle man or dispatcher. That means the ability to find service providers, manage repair jobs, get payment approval, and send secure payments without the usual hassle. Less hassle means getting back on the road faster—and that's a win for everyone involved.
Truck Repair Solutions for Carriers
Truck drivers need easy access to qualified repair and tow services while they're on the road. And carriers need a good way to help their drivers get up and running quickly after a breakdown. TruckerBux can streamline the repair process for drivers, fleet managers, carriers, and repair service providers.
Drivers and fleet managers no longer have to choose between using a call center or conducting frustrating Google searches to find the right service provider. Using a subscription-based call center can mean long wait times. Dispatchers have to get all the details from the driver or fleet managers, then reach out to several nearby service providers to see who can take the repair job, when they can arrive, and what the estimated costs will be–all while the driver waits on the roadside. And Google searches can bring up results for nearby oil change stores or body shops serving commuter vehicles, instead of the specialty repair or tow shops truck drivers need.
TruckerBux puts your company in charge of the process. Drivers or fleet managers can connect directly with nearby roadside repair or tow service providers that understand what they need. And to make the process even easier, drivers can store information about their truck plus payment details in the app. TruckerBux also keeps detailed records of every repair arranged through our app, so it's easy for carriers to review. Our desktop WebPortal helps staff in the office see everything they need and import repair records into other software.
Download TruckerBux from the App Store or on Google Play today to get started. Then log in to our desktop WebPortal to see everything easily in the office. No contract or subscription fee required.
Streamlined Repair Process

Your drivers or fleet managers will reduce downtime by managing the entire repair process inside the TruckerBux app: search for service providers, review and approve quotes for repair, and pay securely.

Direct Connections

Drivers or fleet managers and repair service providers can work together directly, so repairs can get started quickly.

24/7 Service

The TruckerBux app is always open–no matter when or where a breakdown occurs.

Ease of Use

Our app takes the headache out of a roadside breakdown. The app will route the service provide to the exact location of your breakdown and you can store your truck and payment information in the app for easy access.

Automatic Records

Our app keeps records for all repairs arranged through TruckerBux. Users can export them any time.
Carriers can help drivers get the roadside repairs they need with TruckerBux. Faster Repairs. Secure Payment. No Hassle. In short, keeping your drivers on the road has never been easier than it is when you use our heavy-duty roadside assistance app to streamline and simplify your operations—and there's no cost to join the app as either a driver or service provider.
Sign up for a Free Demo and let us show you how easy it is to use TruckerBux.