As America exits the pandemic and businesses reopen, the number of commercial trucks on the road is expected to grow alongside this resurgence of commerce. In fact, industry experts estimate a need for 900,000 new drivers of heavy duty and semi trucks in order to meet demand. More trucks on the road means more opportunities for roadside repair services like yours to capture new business. How can you position your business to cost-effectively capture these leads and grow?
Partner with the mobile app that connects truck drivers with repair and service providers immediately when they have a need.
TruckerBux is a mobile app that connects truck drivers and fleet managers with repair service providers by making it easy for them to find your business as soon as a service or repair need arises. What follows is a turnkey, streamlined process from contact to quote to service completion and payment.
Why TruckerBux?
Whether you are a nationwide repair service or a local shop, TruckerBux helps truckers and fleet managers find your business, describe the service or repair need, request a quote, and pay for services–all from inside the TruckerBux app or WebPortal.
A streamlined process

Increase your visibility as drivers or fleet managers with a service need find your business in the app using a location-based search and then request a repair quote.
You provide an estimated quote and time of arrival and if accepted, assign a technician and initiate a service call.
TruckerBux makes it easy for drivers and fleet managers to complete secure payment within the app, and protects service providers from fraudulent chargebacks.

Minimize the risk

There is no fee for service providers to be featured in the TruckerBux app, and our app is a free download from the App Store and Google Play.
For added peace of mind, TruckerBux makes your transaction history easy to access and integrates with accounting software for accurate reporting and tracking of expenses and transactions.
TruckerBux is just one tool in the box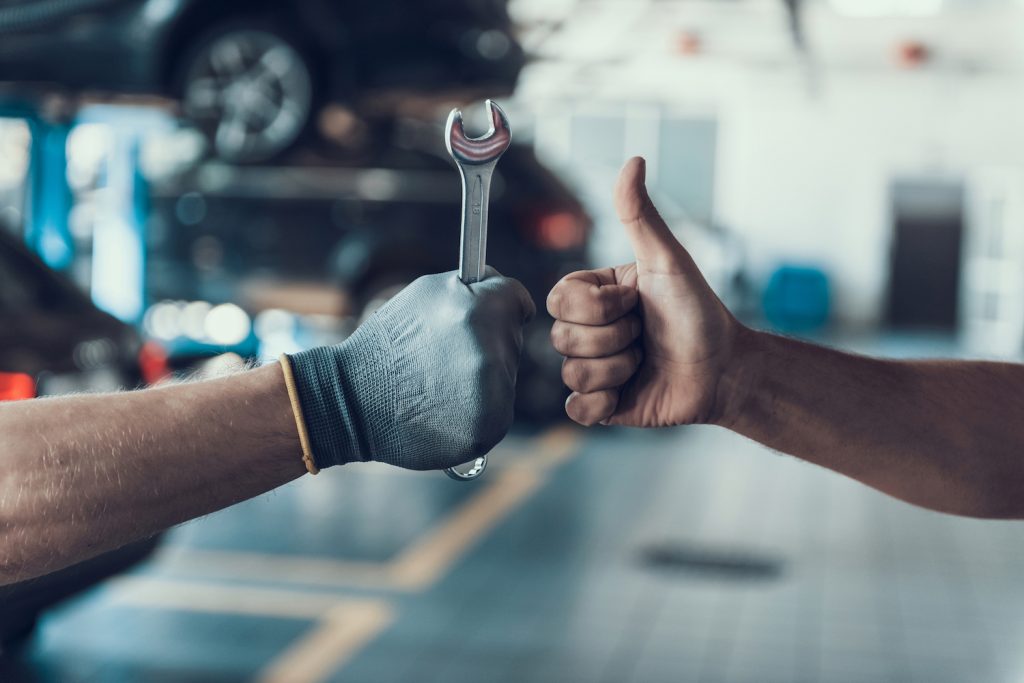 Can TruckerBux help connect your service and repair business with drivers and fleet managers when they have service needs? Absolutely! What more would you need to do to promote and grow your business? The answer is… a lot. Partnering with TruckerBux will connect you with your target audience and most definitely drive leads to acquire customers. But it's just one piece of your marketing toolkit to grow your business effectively.

To make sure your business is found by prospective customers, an active online presence is essential. We get it, you're running a business–not a marketing guru. When your time and resources are limited, it's important to invest in areas that will bring you the greatest value.
We compiled a few tips that will help you establish your online presence and help you market your truck roadside repair business.
Social Media: more than just social
Social media platforms have become a powerful communications tool that no business can ignore. And the good news is, they are designed for any level of knowledge or experience (or lack thereof) and relatively easy to navigate. By building a profile on social media and gaining followers, you also create awareness for your brand and have an opportunity to generate sales leads.
Posting regularly with fresh content to keep followers engaged is key. Think about posting tips to warn of signs of engine failure, how to prevent certain typical mechanical problems–areas where your business is an expert and can provide value to build credibility with your target audience.
Paid social media ads can be a budget-friendly and effective way to advertise your business with the added benefit of digital targeting. Facebook (which also owns Instagram) allows you to target your ideal customers based on traits and behavior in a number of categories, as well as create custom audiences based on emails and tagged audiences.
Help your customers find you with Google Search Ads
A truck driver breaks down on the side of the road (and let's say they don't know about TruckerBux yet) and immediately opens the browser on their smartphone to search for the nearest repair shop. Utilizing search ads is a great way to market your roadside service and can ensure your business is found based on the keywords searched that are most relevant to your business. These search ads can be paired with other targeting options and will help you get the most highly qualified leads.
There are so many online articles that provide tips on how to go about doing search ads, but here is one that we think will provide you with the best overview from Hootsuite titled: A Beginner's Guide to Using Google Ads.
Get to know your trade publications
With their highly targeted audiences, trade publications within the trucking industry make a very attractive advertising option. A few of these include CCJ, Overdrive, and Truck Parts and Service. Many of these trade publications have a digital version made available to their target audience online, and they offer targeting capabilities to ensure you reach the audience segment most likely to benefit from your products and services.
Let's talk! Schedule a free demo with TruckerBux today!
We hope these tips for establishing your online presence and marketing your truck roadside repair service business have given you some valuable insight into growing your business. With TruckerBux as your partner, we can help you drive more requests for repairs, streamline your customer interactions, and conduct safe and secure payment transactions. Schedule a free demo today to learn more!
Sources: RandandReilly.com & blog.hootsuite.com